--1--
Because I am STILL having issues with
picking a color pallet
t for my living room, hallway, master bedroom and master bath makeover (noticed I said "COLOR PALLETT" because, guess what? I also have to buy CURTAINS or DRAPES or LORD HELP ME, CLOTHE TO COVER MY DINING ROOM WINDOWS, sigh)... I found this nifty little "tool" in my desperation.
It's an iPhone app from Benjamin Moore called ben. Really, it's more fun than useful, for me, but I can see where it'd have some practical uses.
Say, for instance, you have a son with the most amazing blue eyes, and you thought it'd be a sweet idea to repaint his room using said color. Well, we can't go scraping corneas out and placing them in the handy color matcher machine, now can we?
No siree.
In the
ben
app, you can find a picture, tap any point on that picture and it'll match it to a paint swatch from the Benjamin Moore collection.
Conner's eyes happen to be "Athens Blue".
--2--
Since we are on the subject of iPhone apps that rock my face off, or at least my children's faces off - mostly Conner's face... I had a little fun of my own the other day with the sweetest picture of my youngest child:
Might I present to you Chasadrian Alexandria? Heavens, I need to make sure to label this one for "delete within the next 4 years"....
This all stems from some photographs my grandmother brought over to show me just how much Chase and I looked alike as babies - and dudes! We SO do! It's amazing. So, naturally, she gives me the "
Chase should have been a girl
" speech, and I, in turn, gave him some beautiful golden locks and a precious little bow using
Scribble Lite
(the iPhone app)
Funny: I showed this to Conner, and he thought
it was L
. Which, in hindsight, is kinda disturbing...
(For those of you not clicking that link, because I'm a little link and picture crazy today, L. is his puppy crush from Pre-School...)
--3--
Enough about iPhone apps, mk?
Let's talk about how DEEPLY SATISFYING it is to prepare dinner at lunchtime, when you are ALREADY cooking lunch and over the stove? SO SATISFYING.
This past Saturday, while playing short-order cook, I managed to throw together this:
Baked Ziti! Just brown up some hamburger meat, add a large (26 ounce??) can of spaghetti sauce, simmer for a bit. While that's working, boil off half a regular sized box of ziti (make sure to salt the water well!) for 7-8 minutes, as directed. Then, mix it all together in a casserole dish, throw in some Italian Cheese Blend (Publix!), and throw it in the frig. I pulled it out an hour before dinner time, heated the over and baked for 45 minutes under a loose foil at 350.
Delicious (thanks MOM! Loved this dish!)
--4--
For Conner's 2nd (?) birthday, he received Darth Tater: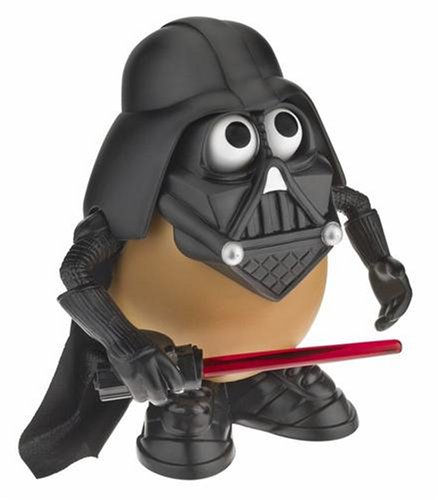 (Hysterical, no?)
So, it was no surprise when he re-found his toy. It was even MORE hysterical when he started to become one with the Dark Spud:
(iPhone quality + Jedi speed = blurry pics and one sorry blogger....)
May the Funny be with you.
--5--
Speaking of FOOD! I made General Tso's Chicken the other night, and it was DELICIOUS! I'm going to post the recipe tomorrow after Conner's bday party (or Sunday, whichever). It was so very good, and just as good as anything I could have purchased from take-out!
Here's a preview of my leftovers (sorry about that...)
--6--
I cleaned out the window seals yesterday, is that blog worthy? I feel like anything that has to be cleaned, but can't be seen AND breaks a sweat deserves a shout-out.
Feel free to leave your least recognized and unrewarded accomplishment in the comments section. I'll give you a virtual high-five for it!
--7--
You know who I find amazing? Ellie over at
One Crafty Mother
and her etsy store,
Shining Stones
. She's a self-described "former executive, proud SAHM of 2, artist, designer, and recovering alcoholic".
Her jewelry is amazing - SEE:
and her prices will floor you. Her story of recovery is even more awesome, so I'd suggest a gander at her site. Plus, she gives away a piece of her stunning jewelry twice monthly, so while you are there, go ahead and look into that too.
--7 1/2 --
The Church of Amanda
post really hit home with a lot of you, and I really enjoyed your comments. If you are visiting from Conversion Diary, go ahead and take a look at that post too. It's all about finding your Church Home and what to do when that search has been exhausted. Let me know your thoughts on the subject.