I might have a small addiction to nail polish of of late. It makes me feel less frumpy, no matter what I'm wearing, just to have my nails filed, primed and painted.
Here are a few polishes I'm either eying or am already in love with.
My first is 'Dear Santa' and 'All Abordeaux The Sled!' both from OPI's Winter Holiday 2009 collection.
I own the 'All Abordeaux The Sled!' (got it at Ulta this week for 60% off!) and 'Dear Santa' was totally sold out. I used it for my Christmas Eve manicure. A perfect Christmas red with gold sparkles.
Next, is the China Glaze 'Up & Away' Collection for Spring 2010. This should be in stores sometime this week and I hope to snag a few.
Temptalia
has an outstanding blog and she frequently reviews some of my favorite polish. All of these colors look so amazing! I doubt I could rock the bright green or bright yellow, but I love the mint and softer yellow as well as the peachy color and the red.
Here's Temptalia's review of the Up & Away collection from China Glaze.
Also part of the new collections coming out in Spring 2010 is OPI's 'Alice in Wonderland' (obviously tied in with Tim Burton's remake of
Alice in Wonderland
with Johnny Depp which will be in theaters this spring!)
I do love the shade of this blue, but I'm more drawn to the Madd as a Hater (appears purple in this photo):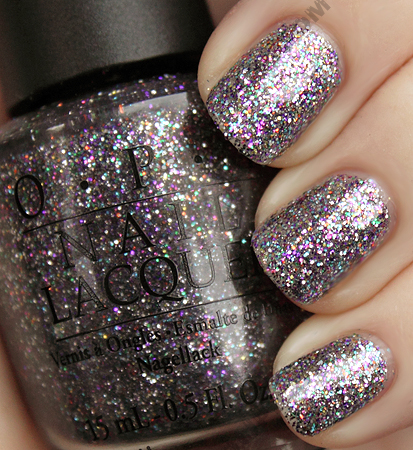 Review post on this collection can be found
here.
If you are interested in a "true red", may I recommend 'Big Red Apple' by OPI? It's bright, not too orangy or blue, and show stopping.
Next on my list (one that I don't own nor have I tried), is by China Glaze - 'Emerald Sprakle'. I found this through StephsCloset and you can read her review of the entire collection (including this dreamy green)
on her blog.
For some of the more bold colors (I also love OPI's 'Midnight in Moscow'), I recommend a good base and top coat. I use OPI's Start-To-Finish. It's super easy to use and it protects my polish, gives it extra shine and makes polish removal easier.
I'm not a pro yet, but I do have a few tips for making polish go without a headache.
Trim your nails and buff away an excess skin.
Use cuticle oil.
Wait about half an hour or so (more if you can) before applying your base coat (just make sure you've rinsed off your cuticle oil).
Apply a thin, even coat of Start-To-Finish on all nails and wait about 20 minutes (must have patience!)
Apply a thin, even coat of your polish. Make sure to start at the bed of your nail and pull towards the tip. Only go one direction. Even if this coat is streaky, it's ok. That's typical.
WAIT 30 MINUTES! If you can not wait (this is the most critical wait in my opinion), try dipping your hands in ice cold water for 5 minutes. It will help set that first coat of color.
Now go in for the 2nd coat. Not too think, not too thin and make sure you are going in the same direction. This coat should "erase" your streaks.
Wait a bit for this coat to dry and apply a thin layer of top coat. For high-glitter polish, I like a thin 3rd coat and then the top coat.
What are your favorite polishes or brands? Is "polishes" even the plural for "polish"? See, this is why I'm not a nail polish blogger. I don't even know how to properly cite a brand, line or color. OH WELL!